New Delhi: The ad collab of Blinkit and Zomato is being highly praised by the netizens. The picture has gone viral and has received a lot of appreciation for the creativity and ingenuity. The campaign was so successful that it forced other brands to jump on the bandwagon by sharing memes related to the campaign.
Read this also | Alibaba founder Jack Ma to give up control of Ant Group; Read the inspiring story of this rags-to-riches billionaire

Zomato and Blinkit came together to form a billboard collaboration for marketing and advertising. He used the popular Bollywood film dialogue 'Maa tujhe salaam', in which the protagonist once said, "Doodh maangenge, kheer denge; Kashmir mangoge, cheer karenge."
Read this also | Heavy layoffs: These companies announced to lay off their employees in 2023

Both put their hoardings close to each other to show cooperation. On the billboard of Blinkit near Zomato, it was written, Doodh maangenge, doodh denge. Zomato's billboard was installed at a short distance. Another line of the proverb is written, 'You will ask for kheer, you will give kheer.'
Here's how different companies are sharing their trendy lines:
The spouses joined the trend and came up with another banner which read, "Pyaar maangegi, haath yellow kar denge,"
While every parent used to say that if they have a banner like this, "You will ask for permission, you will not give it."
TrulyMadly also came up with a good one and wrote, "Pyaar magoge, sacha denge."
Chocolate brand KitKat has also made a chocolate with the words "Nahi maangegi, phir bhi break denge" written on it.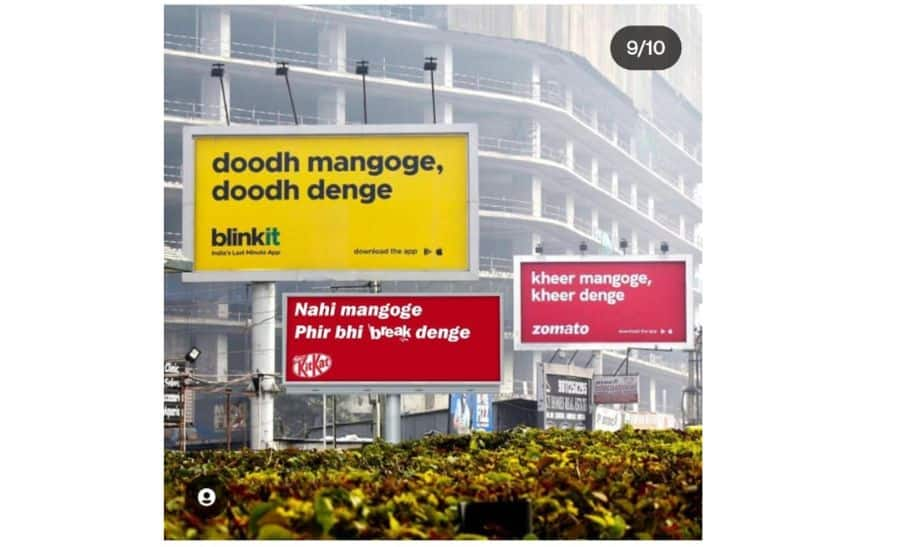 Public bank Punjab National Bank also joined the trend, with a billboard that read, "Instant Account Mangoge, Tab Banking Denge." It created 4 more variants like "Bacht maangegi, 666 days FD plan 8.10% denge" or "Bank from home maangegi, WhatsApp banking denge".
Will ask for account immediately, will give tab banking#billboard advertising #StayInTrend #loan #CreditCard #Fixed deposit pic.twitter.com/WeVIem2qNv– Punjab National Bank (@pnbindia) January 6, 2023
This is how they react.